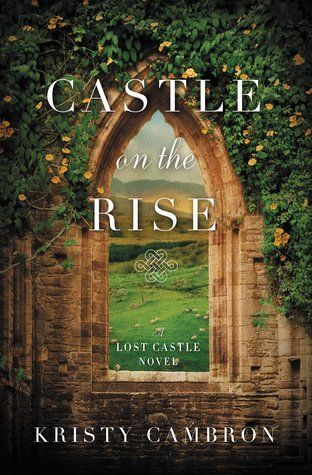 Kristy Cambron's Lost Castle series continues with this Ireland-inspired tale. Like
the first book in the series
, this is a split-time novel featuring three separate timelines, characters, and plots. In the late 1700s our heroine is Maeve, largely running her family's estate and trying to be a generous mistress, including rescuing strangers who are found wounded in nearby fields. The middle storyline focuses on the 1916 Easter Rising, with young photographer Issy wanting to join the fight for freedom. Our current day setting brings us Laine, a hurting divorcee with a small daughter whose unplanned visit to Ireland may end up bringing hope and healing to both of them.
Having found the timeline in "The Lost Castle" confusing to follow, "Castle on the Rise" is truly refreshing in its straightforward chronology. The historical stories grabbed me right away, and I also felt for Laine and the burden of the secrets she was keeping.
However, much like the first book, I felt too much was lost trying to pack three stories into one. I love learning history through fiction, but it seemed the rebellions of 1798 and 1916 as Cambron tried to describe them lacked context, and the real life people and places lacked impact because they were not developed enough on the page. I felt Issy's story was the strongest and that I could have gathered so much more of Ireland's struggle if only it had a chance to truly grow and blossom here.
My other main complaint was that even basic conversations were difficult to follow because none of the characters' motivations were very clear. I often had no idea why any two characters would be having the conversations as presented in the story.
It is clear that Cambron loves Ireland and wished to honor this country and its fight for freedom. Her description of the location were beautifully done. Perhaps other readers would be able to enjoy the split-time approach more than I this time.

I received my copy of the book from the publisher. All opinions in this review are my own.