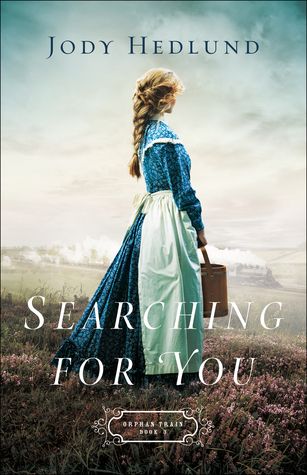 Jody Hedlund's Orphan Train series comes to a close with the story of the youngest Neumann sister, Sophie. We first learned about eldest sister
Elise
and how she traveled on the orphan train to find employment as a cook along the railroad, then followed
Marianne
as she worked as a placing agent for the Children's Aid Society. The last we knew anything of Sophie, she had run away to try to save two young orphans whom she had been caring for. Though her sisters had long been looking for her, Sophie was nowhere to be found.
In "Searching For You," we learn that Sophie managed to rescue Olivia and Nicholas and has been raising them with whatever means she could find. The streets of New York City in 1859 are not kind to orphans, and Sophie is barely old enough to pass herself off as an adult. When she gets mixed up with some of the Bowery Boys, she feels they may have found a home within the gang. Gangs come with violence, though, and soon Sophie realizes that she must run again if she wants to keep everyone safe.
Sophie decides they will take their chances with the orphan train, though she's determined that nothing will tear her apart from the children. If need be they can live on the streets again, as long as they are far away from New York City.
Reinhold Weiss grew up with the Neumanns, and now is working his own homestead in Illinois. He knows he inherited his father's explosive temper, and combined with the amount of work involved in running his farm, he is sure he could never subject a woman or family to this reality. He's shocked when his path crosses with Sophie, and faces a dilemma when she begs him not to tell her sisters her location. She promises that if he'll give her time she'll be able to get their lives straightened out so that she's worthy of a reunion.
Certain that she can handle anything life throws at her, Sophie schemes and plots. She'd rather hide than admit where she has failed. But a loving God and steadfast people won't leave her to her own inventions. Will Sophie ever learn to accept the loving help and guidance in her life, and will she ever agree to see her sisters again? You'll have to pick up this book yourself to find out!
Note:
Please be aware that this story hints at child abuse and sexual assault, and there is a large portion of the book where the consummation of a marriage is discussed. I would urge caution for young or sensitive readers who may be bothered by this content.

I received my copy of the book from the author. All opinions in this review are my own.